A Halloween House of Horrors?
3 Minute Read
Don't find yourself haunted by the spectre of scarily expensive waste disposal the next time you do a house clearance
When it comes to house clearances, with stubborn inflation and increasing regulation haunting the charity sector, there's a very real chance that unless you're very careful, the cost of organising the clearance, managing it, and disposing of any unwanted items will outweigh anything you make from proceeds. 
For example, did you know that in Bristol it now costs £125 to dispose of a fridge freezer? 
Or that many waste companies won't take TVs? 
Now that's a scary thought.
And with charities taking money for clearances, items are no longer considered donations and are treated as 'commercial' waste at £190 per tonne!
Here's a quick look at some of the considerations you should take on board before committing to a house clearance.
Site visit
It's no good arriving at the job only to find that anything and everything of worth has disappeared. When you visit the home be sure to take an inventory and agree exactly what will and won't be there for your charity when you return to clear the premises.
A site visit will also give you an opportunity to identify what's useful, what needs to be disposed of, and to categorise donations so you can plan for their resale/recycling and start to put together a proper cost-benefit analysis for the project.
Specifying the job
As part of your cost/benefit thinking you'll need to carefully consider logistics. When you're clear about the scope of the job you'll know how many people you'll need to run it, how long it will take them, the type of vehicle they'll require and the mileage they'll cover. Here you can refer to your telematics system to help you accurately plan and price the best value logistics.
And what else will you need? Things like packing, bags, ties and the rest. It all matters, and it all adds up.
Clearance – PPE
Another important consideration is the cost of equipping your team with the right protective equipment. For example PPE for staff and volunteers in terms of clothing such as masks to protect volunteers from inhaling mould and other 'nasties' and gloves to protect them from needles or other sharp objects. Again, these are all important considerations and they all have a cost.
Talking of H&S did you know about the new rules on disposing of any item of upholstered furniture which cannot be resold? New POPs (persistent organic pollutant) regulation means you're now legally obliged to, in the words of the Government, 'send your waste to a suitably authorised treatment plant that can separate the items, components, or materials containing POPs from the other waste or materials.'
Some waste contractors are looking at imposing increases of up to 200% or imposing minimum fees or a surcharge per item!
Waste disposal
At the outset, it's important to identify items that can be reused and recycled. Inevitably though, some will go to landfill.
Here are some examples of how much logistics companies are charging charities for disposal:
2-Seater Leather Sofa £120                     Dining Table and chairs £45
3-Seater Leather Sofa £140                     6 X fabric dining chairs £80
Leather Armchair £50                              Double Wardrobe £40
2-Seater Fabric Sofa £100                       Cooker* £25
3-Seater Fabric Sofa £120                       Washing Machine* £25
Fabric Armchair £45                                Tumble Dryer* £25
Mattress £65                                              Fridge Freezer £150
*The relatively low cost for cookers, washing machines and tumble dryers disposal is because of their scrap metal value.
Ouch!
While you may get better rates than these, the point remains – disposing of unwanted items is expensive. Eye-wateringly expensive.
And so is every other part of the house clearance process these days.
You put your heart and soul into your work, and so do your volunteers – with the lightest of touches and the most considerate and professional of approaches you do everything in your power to make home clearances simple and stress-free for everyone.
When you go through all this time and trouble, the last thing you deserve is to be left with a bill for simply trying to do the right thing.
Talk to us about how our Fleet Services can play an essential role in helping you keep your house clearance costs as low as possible.
Tips, tricks and how-to guides
We want to help you. We have the technology you need for your charity to excel as well as specialist knowledge in this sector. We use this knowledge to make accurate decisions everyday but also to provide you with free impartial advice, tips & tricks and how-to guides.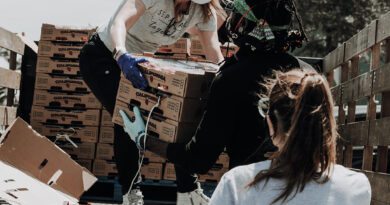 How to improve the charity donor experience
Bringing a fleet together to achieve your overall goal For a charity to operate, each moving cog has to work independently and in sync.
Read More +